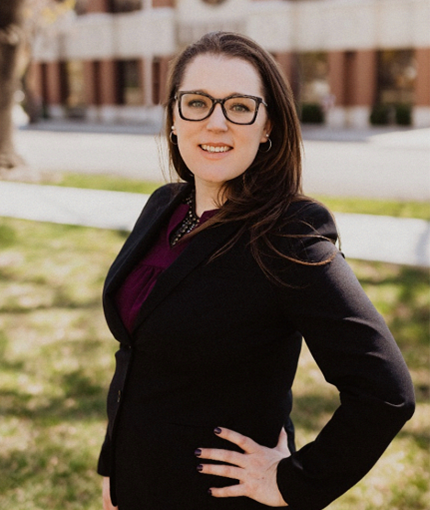 Erika grew up in San Diego, California and moved to Idaho in 2013 to attend Boise State University, where she received her Bachelor of Science in Mechanical Engineering. In 2018, Erika attended the University of Idaho College of Law, where she found her calling in the legal field.
During law school, she made her mark as President of the American Constitution Society where she represented the law school as a Next Generation Leader. During her 2-year term, Erika advocated for positive change and provided resources and expertise on vitally important legal and constitutional issues including access to courts, voting, equality, and many other issues directly affecting people's lives.
Her favorite classes in law school focused on intellectual property and business law. During school, she interned for the J.R. Simplot Company in the Intellectual Property Department and worked for the University of Idaho Entrepreneurship Clinic where she focused on trademark applications small business formation. In May 2021, Erika graduated from the University of Idaho College of Law with her Juris Doctor and an emphasis in Intellectual Property and Technology Law.
Fight for the things that you care about, but do it in a way that will lead others to join you.
– Ruth Bader Ginsburg
When not at work, Erika volunteers her time as guardian ad litem through the Court Appointed Special Advocates program, representing foster children and advocating for the child's best interest in court. Erika is also a member of the Oregon State Bar, Idaho Women Lawyers, and the Idaho State Bar Tax and Probate Section.
EDUCATION
⦁ J.D., University of Idaho College of Law, emphasis in Intellectual Property and Technology Law⦁ B.S., Mechanical Engineering, Boise State University
MEMBERSHIP AND ASSOCIATIONS
⦁ Oregon State Bar⦁ Idaho State Bar (anticipated admission Spring 2022)⦁ Idaho Women Lawyers⦁ Idaho State Bar Tax and Probate Section